Squished between an excessive amount of cycling bags, off the team set for the season opener in Aix en Provence. The Boucles du Haut Var is a three day race made up of three completely separate races (we would be competing in two stages); it's the amateur version of the professional Tour du Haut Var that took place this weekend.
I arrived at the start having easily consumed my 4 Nutella sandwiches and a 2L bottle of juice and, with my sugar levels nearing those of a hyper-active child, I was ready for the stage. However, I was faced with the age old question of deciding what to wear. The temperature was a chilly 9 degrees and there was a bit of a wind so I looked to other riders for ideas. Most people were stripping off leg warmers so I did the same. And then immediately pulled them back on. No leg warmers in winter would have been suicide for a skinny African.
The race started with a bunch of about 100 riders. After a few kilometers of winding snow-lined roads, I decided getting into the break could be a good idea. Being in a bunch on a winding, narrow course is often more difficult than forging ahead in a break so I followed the next move and we made it away. With a solid group of 8 working well together and my heart rate well in the 180s trying to sustain the 46km/hr average speed, I thought "wow, good going Edward, you idiot! First race of the season and you are in a suicidal early break for 140km!"
With an hour at 46km/hr done, a big group of 18 joined us. I was horribly out numbered by all the big teams, including the French Army Team and the AG2R feeder team. Based on the simple mathematics of being outnumbered, I assumed my role of playing victim and not working which came with a fair amount of what I assume was verbal abuse en Francais but I had no idea. Into the final 30 minutes of racing, the French Army Team, looking really well "drilled" I might add, put the rest of us firmly in the gutter, blew the bunch to absolute pieces, and rode away with a only few hostages clinging on for dear life.
I settled into the second group and then faded off, soloing the last 15km since I had already burnt my entire box of matches. I finished a decent 14th, knowing it was a solid start to the season.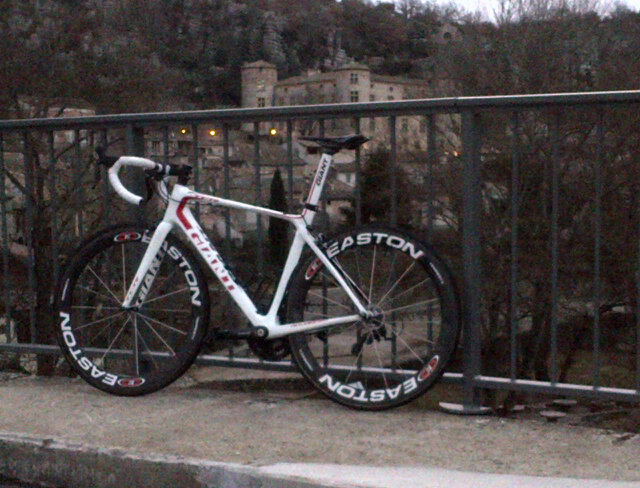 After a good night's sleep and an excessive breakfast that included pasta, croissants, baguette, coffee, and cereal, we lined up for the second day of 140km. Day two was a lot less winding and a lot more faster. We set off at a break-neck speed and never really slowed down, even managing to ride uphill at over 30km/hr.
Entering the final 60km of the race, small groups, that had slowly crept off the front, were now a decent size group of 25. With the pressure really on the bunch, I knew it was the last chance to get across when things slowed down. As the speed of the bunch began to relax, I jumped with a group of around 10 riders and somehow we managed to cross the 40 second gap in less than 10km, although it felt like forever.
When we joined the front bunch, once again I was outnumbered and mathematics ruled my strategy: I simply sat on and hoped for the best. Attacks started flying and I followed as many as I could but I found myself in the second bunch with 5 riders up the road. The attacks diminished to slight accelerations in the saddle but we kept at each other right until the end. The uphill sprint proved too much for me and it quickly became an uphill creep as I crossed the line in 23rd.
Overall, the season opener was a good solid start to the season. On what were flat courses by French standards, I made all the front groups and was one of only three others to make the break both days. After downing a few well-deserved rice puddings, we all piled back into the van and off we set to Aubenas.